Carroll Motor Fuels and High's are expanding its operations throughout the Mid-Atlantic!
Carroll Motor Fuels and High's
Enduring Relationships & Comfortable Workplace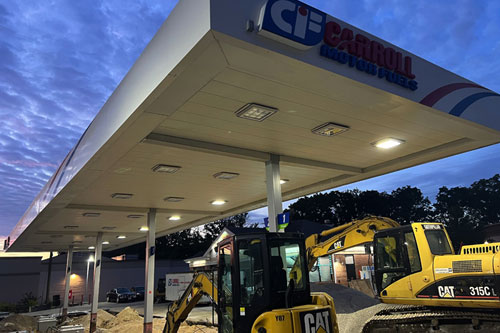 At Carroll Motor Fuels and High's, Real Estate is about much more than dirt, bricks, and mortar. It's about fostering an enduring relationship with our neighbors, creating a safe and comfortable workplace for our employees, and providing a clean, welcoming gas station for our customers. We make every effort to build an environmentally friendly "green" facility. At all of our locations we meet or exceed local and national standards for safety. We prefer sites that are approximately 4 acres and close to a main travel road.
If you have a site that could be a future home of a Carroll Motor Fuels station or High's Dairy Store, please contact us today! We would greatly appreciate it if you could include tax maps, survey information, site plans, zoning information, and aerials.
We often have residual property available for purchase or lease. Please contact us to inquire about these properties and other locations for sale.
Our acquisition, financing and development expertise.

 

Our development of NTI High's stores.

 

Our innovative repurposing of older retail motor fuel service stations.

Our "co-development" efforts with select retail motor fuel operators.

Our programming of innovative retail options developed by our High's team into older retail motor fuel service stations.

Our expertise in rehabilitating and operating brownfield sites.

Our intention/interest in developing retail food sites.

Our acquisition and management of storage facilities.

Our targeted expansion areas in terms of geography.

Our burgeoning car wash business.

Our interest in obtaining sites where we can locate FuelCloud.